SubAcromial Bursitis Symptoms & Injuries With Similar Symptoms
The symptoms of subacromial bursitis are similar to the symptoms of bursitis that occur in other joints in the body; pain, limited range of motion, weakness, difficulties sleeping, swelling and tenderness, and possibly a fever if the bursa is infected. Due to the tight space between the acromion and the bursa, another common symptom (or arguably a secondary injury) is shoulder impingement syndrome, where the bursa expansion causes a pinch between the bone and the bursa.
Symptom 1: Pain
Direct pressure on the bursa will exacerbate the pain and should be avoided if possible. Subdeltoid or subacromial bursitis causes pain when you move your shoulder, particularly during activities requiring abduction and extension.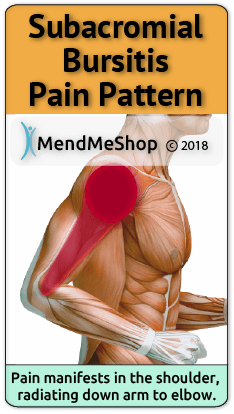 To diagnose your bursitis, the doctor may ask you to extend your arm out and he/she will apply resistance as you try to move it back towards your body. If the pain increases you may be suffering from bursitis, although other rotator cuff injuries and tendonitis can produce similar pain patterns.
The pain of bursitis starts gradually, originating deep inside your shoulder, and develops over a few days or even months. You will usually feel the pain on the outside of the shoulder and it may spread down the outer arm towards the elbow. If you raise your arm above your head, as you would when washing your hair or reaching high to get something off a shelf, the pain will worsen.
If the bursa is swollen and pinched by the acromion (Impingement Syndrome) the pain may occur as you lift your arm out to the side.
Symptom 2: Fever
If your bursitis is caused by an infection in the bursa (septic bursa) you will usually experience a fever. If you are experiencing tenderness, warmth, and redness around the bursa, it is recommended that you see a doctor for medication to get rid of the infection.
Symptom 3: Limited Range of Motion (ROM) & Weakness
When you have subacromial bursitis, the pain often limits your range of motion in the shoulder as you stop performing motions that make the pain worse. If bursitis is left untreated the inflammation can increase, causing more pain, limiting movement even more. Eventually weakness in the shoulder muscles and tendons can set in.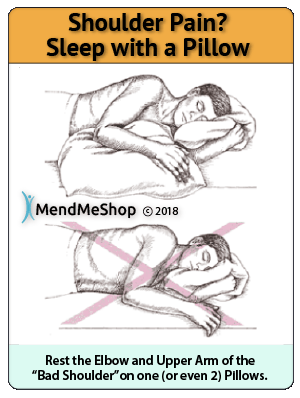 Symptom 4: Difficulties Sleeping
Patients suffering from shoulder bursitis may also have interrupted sleep patterns. Simply rolling over on the affected shoulder during the night can cause pressure on the inflamed bursa increasing the pain at the pressure point. The pain can range from mild to very sharp depending on the amount of inflammation in your shoulder.
Symptom 5: Tenderness & Swelling
A physical examination of your shoulder will show tenderness and usually warmth and swelling of the bursa and possibly the tendons as well. The tenderness will appear over the outside (lateral) shoulder and the subacromial space. There may be redness on your skin over the area.
It is important to treat bursitis to reduce these symptoms, minimize damage and maintain rotator cuff motion and strength. Without proper care, you may experience other painful conditions such as calcific tendonitis, frozen shoulder or a rotator cuff tear. By treating your shoulder bursitis in the early stages, you are more likely to prevent long-term damage and chronic conditions from setting in.
Are You Sure It Is Subacromial Bursitis?
Pain, swelling and inflammation in your shoulder could mean that you have shoulder bursitis but it is also important to consider that there are other conditions that might cause pain in your shoulder as well. Our shoulders are very complicated joints with 6 major bones, ligaments connecting the bones, muscles in the front, back, top and side of our shoulders and tendons connecting those muscles to bone. With so many parts to the shoulder you can easily have a different injury than bursitis, or even suffer from more than 1 injury at a time. Some other shoulder injuries include: shoulder tendonitis, impingement syndrome, and frozen shoulder.
Injuries With Symptoms Similar to Shoulder Bursitis:
Impingement Syndrome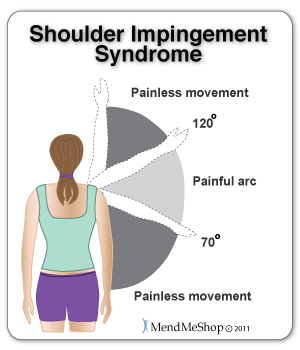 Impingement Syndrome happens when the tendons or bursa in your shoulder get caught by the bones in your shoulder. Impingement syndrome can damage your bursa and/or cause the tendon to break down near its attachment on the humerus bone further increasing inflammation and swelling. Overtime if left untreated impingement syndrome can result in shoulder tendonitis, bursitis and can cause tearing in your rotator cuff tendons. If this continues, your bursa pain will get worse and your tendon may split or completely tear away from the bone.
There are generally 3 stages in impingement syndrome: Stage 1 (pain, swelling and inflammation in the rotator cuff tendons), Stage 2 (rotator cuff tendonitis) and Stage 3 (tendon tissue catching under your bone resulting in immobility and loss of function in your shoulder). Each stage will generally affect a different age group, which is why this condition is thought to progress over time. Stage 1 usually affects individuals younger than 25 years old, Stage 2 affects individuals between the ages of 25 and 40, and Stage 3 affects individuals 40+ (reference: [1]).
Shoulder Tendonitis
Shoulder tendonitis usually causes pain and tenderness in the side and front of the shoulder. If you have shoulder tendonitis you may also have an inability to move your arm or hold it in different positions. Other common symptoms of this injury include pain or a dull ache in your shoulder and/or upper arm, pain when using your arm (either reaching around your body to the front, side, back or overhead), pain that radiates down your arm. The injured area could be red, swollen, or hot the the touch.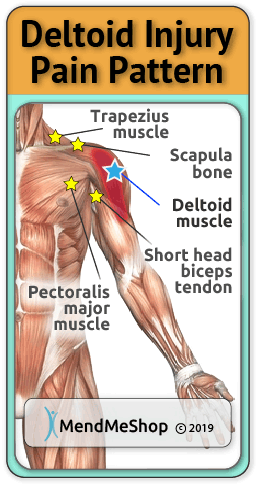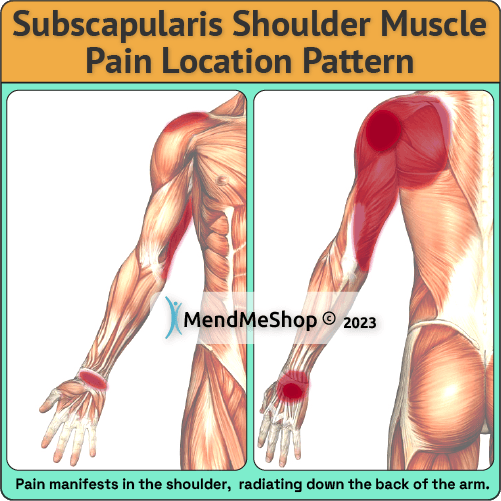 Severe tendonitis in your shoulder (possibly from a tendon rupture or ruptured tendon) could result in pain when sleeping at night (especially when laying on the affected shoulder), increased pain first thing in the morning, and general weakness or instability in your shoulder joint.
Anyone can suffer from tendonitis, but it's most common in adults due to degeneration of tissue as we age. Over time the tendons in the foot will wear down resulting in something called degeneration. This is where the fibers in your tendons will become more weak - it's just a natural process that happens as we age.
Much like shoulder bursitis, there are different kinds of shoulder tendonitis that you can suffer from. You might have overuse tendonitis, calcific tendonitis (from a calcium deposit or bone spur). You might also have tendonitis in different areas of the shoulder - like biceps tendonitis or supraspinatus tendonitis (rotator cuff tendonitis).
Frozen Shoulder
Frozen Shoulder (also known as "adhesive capsulitis") is signified by pain and stiffness in the shoulder joint; limited range of motion and pain while sleeping. This is a condition that commonly occurs in older athletes. Frozen shoulder is five times more common in people with diabetes, though the reason for this is unknown. A lining of fibrous tissue, known as a capsule, surrounds the shoulder joint. The capsule is fully stretched when the arm is raised above the head, and it hangs down as a small pouch when the arm is lowered.
Frozen shoulder happens when this lining becomes thickened and swollen. It's possible that frozen shoulder will happen as a result of a previous injury (like shoulder tendonitis), but it can also happen for no apparent reason or may be triggered by a mild injury in the shoulder area. There are 3 phases to this condition: "Freezing" (general pain, swelling and inflammation), "Frozen" (stiffness in your shoulder) and "Thawing" (recovery as pain eases and most of the movement returns). This process will take some time to get through, and can sometimes take as long as 2 or more years to complete.
Other Shoulder Conditions: Bone Spurs, Hooked Acromion
If you are suffering or have suffered from other shoulder problems such as bone spurs or a hooked acromion you may find the symptoms to nearly identical to shoulder bursitis. In some cases, the conditions can also trigger inflammation in shoulder bursae as well (causal). Decreased space in your shoulder joint resulting from anatomical differences in the shape of your shoulder bone will trigger pain, limit the use of your shoulder, and can lead to chronic tendonitis or bursitis if left untreated. In hooked acromion cases, the physician or surgeon may recommend surgery if the "hook" is too prevalent as it may continue causing significant irritation with little chance of improvement otherwise.
Calcification
Calcification of the bursa sac and/or nearby tendons can and probably will cause irritation and/or inflammation of the bursa.

How Do I Diagnose Shoulder Bursitis?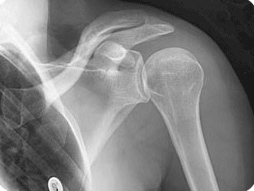 The best way to diagnose this condition is with a quick visit to the your doctor for a physical examination of your shoulder. He/she will inquire about the intensity of your present pain, the duration of your symptoms and the limitations you are experiencing. Details about what instigated the problem, when it started, and whether or not you have ever had treatments for this or a similar condition in the past, are very helpful in assessing your injury.
Are you having trouble using or moving your shoulder?
You will generally be asked to complete a series of movements to measure your active (performed by you) and passive (performed by your examiner) range of motion. These movements will test any possible shoulder impingements, as well as your shoulder strength, joint stability, and location of tenderness. the doctor may ask you to extend your arm out and he/she will apply resistance as you try to move it back towards your body. If the pain increases you may be suffering from bursitis, although other rotator cuff injuries and tendonitis can produce similar pain patterns. If the bursa is swollen and pinched by the acromion (Impingement Syndrome) the pain might happen when you lift your arm out to the side.
A sign that you may have subacromial bursitis is acute pain when trying to reach the affected arm behind you towards the lower back, as if to get something out of your back pocket. You would also experience pain when reaching above your head, as you would when putting something on a high shelf. If you feel sharp pain with both of these motions you may have shoulder bursitis and/or other related conditions and should see a doctor.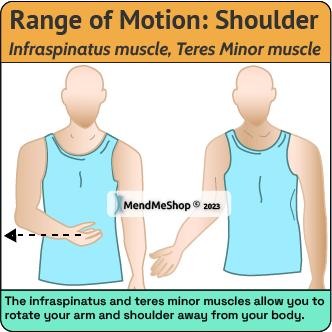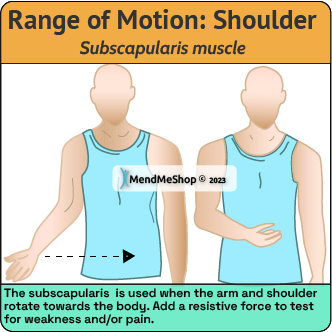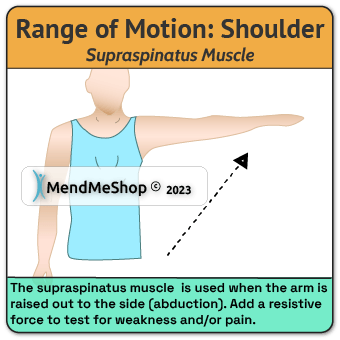 A physical examination will be performed to determine if you have any signs of shoulder bursitis or other shoulder injury. He/she will visually assess and palpate (feel) the bones and soft tissue in both your shoulders to evaluate symmetry to recognize any differences. This will identify any abnormalities, such as mild or severe inflammation, bone deformities, atrophied muscles, redness and/or warmth on the skin.
Sometimes, one set of symptoms can result in multiple diagnoses. An x-ray or MRI is often needed in order to diagnose if the shoulder is out of alignment or the extent of the soft tissue damage. Although rare, subacromial bursitis can be caused by an infection which is potentially serious. Your doctor will be able to rule this out as a possible cause.
Fluid Removal - Your doctor may aspirate (use a needle) to remove fluid from the bursa to check for possible staphylococcus epidermis (or staphylococcus aureus) bacterial infection. The knee and elbow tend to be the joints most prone to septic (infectious) bursitis. If infection is detected you will be prescribed an antibiotic to treat it.
X-rays - X-rays will provide a two-dimensional image of the overall structure of your shoulder. Although bursitis cannot be diagnosed from an X-ray, they are helpful in identifying other possible causes of pain and/or ruling out other conditions. Some other possible causes of pain that an x-ray can identify include instability, bone spurs, abnormal bone shapes (ie. a hooked acromion - a common root cause of shoulder impingement), wear and tear on the joints, avulsion fractures (when a fragment of bone tears away from the main bone along with the muscle, tendon, or ligament as a result of trauma), dislocations, arthritis, calcium deposits in the bursa or joint, and/or other problems.
MRI and CT Scans - You doctor may also order an MRI (magnetic resonance imaging) or a CT (computed tomography) scan for more detailed information to help evaluate the soft tissues (bursa, muscles, tendons, ligaments, fascia, and other connective tissues) in and around your shoulder joint. They will show fluid next to the muscle, and may identify bursitis, tendinitis, inflammation, tears and other associated conditions.
Diagnostic Ultrasound - Ultrasonography can confirm diagnosis and show tissue tears or thickened tendons. It is good for identifying bursitis and excessive fluid in bursa, and/or ruling out other causes of pain.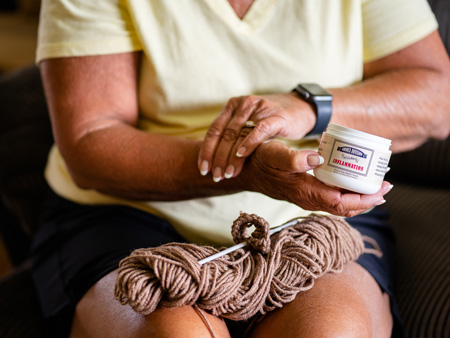 MendMeShop Arnica Infusion Pain Relief Cream
Pain Keeping You Awake?
Pain Keeping You In Bed?
Pain Got You On Edge?
Temporary Relief from Serious Pain For People Who Are Serious About It! Comes with our MendMeShop 60 day money back guarantee.
View MendMeShop's Arnica Infusion Cream in our Online Store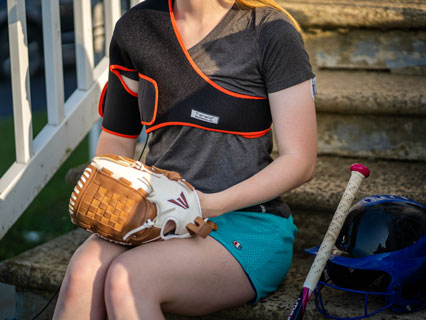 MendMeShop Shoulder TShellz Wrap®
Augment your recovery while reducing risk of re-injury. A TShellz application is intended to:
increase extensibility & flexibility of shoulder soft tissue during treatment & for a short while after
increase blood flow in the application area
be used on either shoulder
Comes with our MendMeShop 60 day money back guarantee.
View The Shoulder TShellz Wrap® in our Online Store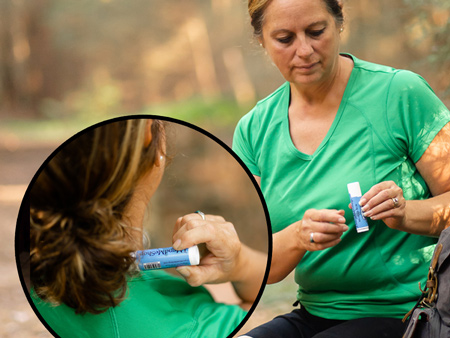 MendMeShop Muscle Rub
Looking for a Portable Muscle Pain Relief Stick? Our Muscle Rub Stick is
Made in the USA
Made with a proven formula to provide safe & quick relief from muscle soreness
Use up to 4 times per day for instant relief!. Comes with our MendMeShop 60 day money back guarantee.
View MendMeShop Muscle Rub Here
AidMyBursa advisors do not work on commission, so be assured you will only receive fair and objective information.
Product specialists are available 9:00 am to 5:00 pm Eastern Standard Time Monday to Friday.
If any question or concern arises, call us or simply send us an email at any time (we check our emails constantly all throughout the day and night.. even on holidays!). We will respond as soon as possible.
North America Toll Free 1-866-237-9608
Outside North America +1-705-532-1671
FREE SHIPPING ON ALL PRODUCTS CURRENTLY ENABLED
Please be aware that this information is neither intended nor implied to be a substitute for professional medical advice. All testimonials and comments reflect the real life experiences of individuals that used our products, however, individual results may vary. Always seek the advice of your physician or other qualified health provider before using any of our outstanding products to make sure they are right for you and your condition or if you have any questions regarding a medical condition.
For more information, call us via: 1-866-237-9608 or send us an email. View our Privacy Policy.
The terms Inferno Wrap®, Freezie Wrap®, T-Shellz® and Mendmeshop.com® are registered trademarks of In.Genu Design Group Inc.
All images shown are exclusive Copyright© 2006 - 2023 AidMyBursa.com.
Sources:
1. Thomas M DeBerardino, MD, FAAOS, FAOA. (2018) Shoulder Impingement Syndrome: Practice Essentials, Epidemiology, Functional Anatomy. Retrieved June 03, 2023, from https://emedicine.medscape.com/article/92974-overview